The F101b square wave frequency generator is a relatively small module that can generate 5V fixed voltage square waves. It requires an Android tablet to run and communicates wirelessly via Bluetooth to the tablet. Program files written for our current F125 are compatible with the  F101.  It is ideally suited to drive any equipment that requires a fixed 5V square wave.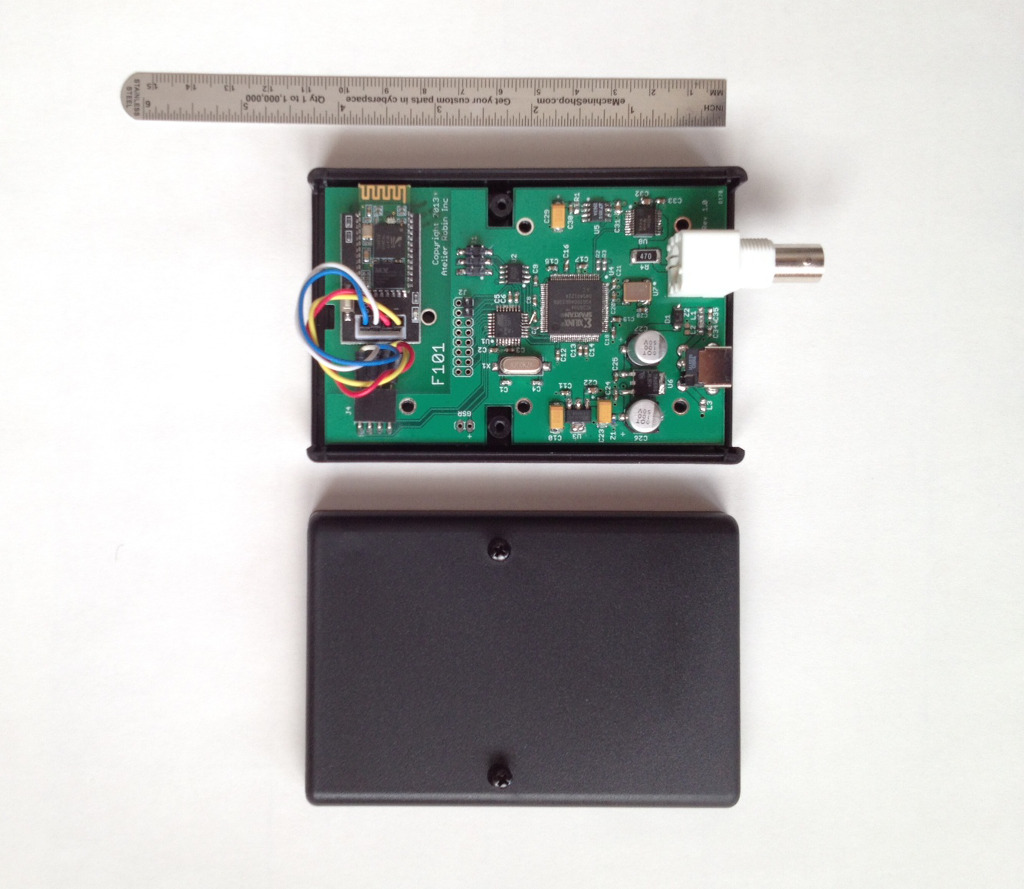 F101b Technical Specifications 
DDS square wave frequency generation module controlled and programmed by Android tablet
Android tablet can store virtually unlimited frequency program files
Program files can be standard F100 programs or Lua programs
Program are created/edited and run via the F100 software that runs on the Android tablet
Program file format fully compatible with our current generators: F150/155/125
2 internal channels , each 1.6 MHZ
One external BNC output connector with fixed 5V TTL output
Any of the  internal channels can be used as a carrier for the other channels
Reference quartz oscillator stability: 50 ppm
Max output current 125 ma
Dimensions of frequency generator module: 4.36 "x 3" x 1" 
Input power connector 2.1mm
Wall transformer provided with North American plug type. Compatible with 110VAC-240VAC 50-60HZ input.
Power input:   2.1 mm, 12 VDC, 1A. 
The F101b is not a replacement of our F125/165/170. We will still be producing the F125/165/170 generators. The F101b is a single 5V TTL output square generator intended to be used with any device that accepts a 5V square wave such as RB plasma and EMEM systems. It does not have the 13 V adjustable output of the F125/165/170.
Update Sept 2016:
F101b availability: Availability of the F101b is based on customer interest. We will have a first production batch made when we have enough customers showing interest. The pre-production unit has been ready for many months but such devices need to be made in fairly large batches to be economical. The target retail price for the F101 is $450 each with enclosure as seen above and $400 each for boards only in qty 3 or more. If you are interested in the F101b, please let us know by email at This email address is being protected from spambots. You need JavaScript enabled to view it. .
F100 software for Android tablets
You can download and install this beta release of the F100 software for Android tablets. This software only works with the F101b generator. Do not download if you have one of our other generators. Of course without the F101b generator module you will not be able to actually produce frequencies. But it will give you an idea of what the software looks like and how it operates. You can run programs for simulation purposes.