Description
The F104 square wave frequency generator is a USB and WiFi connected, dual channel , 2.5 MHZ square wave generator. It can be driven from a PC , Mac or Linux computer. It can also run one program file in standalone mode, not connected to a computer. The F104 needs a USB or wireless Wifi connection to a computer  to be programmed using the F100 7.x software. Program files written for our F125/165/170/101/102 are compatible with the new F104. The F104 has a single 5V TTL BNC output.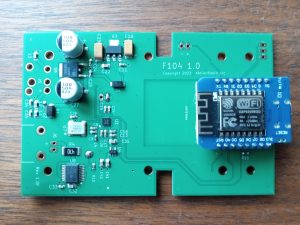 F104 Specifications:
DDS square wave frequency generation controlled by internal 32 bit processor
MS-Windows, Mac, Linux F100 7.x software to control the F104 via USB or Wifi from a computer.
All software can be freely downloaded from our web site in the downloads section
Program file format fully compatible with F100 4.x and our current generators: F125/165/170/101/102
2 internal channels: A:2.5 MHZ, B:2.5 MHZ
1 BNC output 5 V TTL.
Channels A,B can be routed to the output in any combination.
Any of the 2 internal channels can be used as a carrier for the other channel.
Channel A,B frequency resolution (step size): .01 HZ
Reference quartz oscillator stability: 50 ppm
Channels A,B duty cycle programmable in 64 (1.5625 %) steps.
Can be programmed to automatically load and run a program at powerup in standalone mode without the need for a PC.
Max output current 100 ma
Dimensions: 2.925 "x 4.7″ x 1"
Input power requirements: 12 VDC 1A
One year warranty , parts and labor.